Thank you for the answers!
I've been away from my computer ffor the last week, sso have an opportunity to reply only now)
@DebbSpell wrote:

Hey nice topic to reply :)
i dont even want to think about all the shipping costs i have payed until now + taxes.
Oh yes, so do I) I guess one may buy a real horse for that money now)
Mastiffcat
Sure)
Model Horse Collecting is a young hobby in my country. I believe it startered in the middle 2000s.
The oldest collector I know was a woman who collected equine figurines from different fabric since '80s or sth like that. I have no idea if she's in hobby now, as I have no contact with her (unfortunately).
As for mainstream brands- it was Schleich that appeared in my country first. It was 2007-2008, and these figurines were rather expensive that time. Some, however, used to own Schleich even before that time, but they were played with toys, brought from Finland (mine, for ex.), France, Germany, etc. And then they appeared in Russia! It was a real challenge to get them at first, as long as they could be found in online-shops only, and our Russian collectors seemed not to believe them much:) A year or two later Schleich became available from almost every toy-shop. Safari Ltd appeared here at the same time or maybe a bit earlier, but they were not well advertised, and could be found only in few online stores. By that time (2010) we had almost all the major brands in our chops- CollectA, Schleich, Safari, Bullyland, Papo, both available online and offline. However, things were quite easy in major cities only, small towns had mostly Schleich and with a poor assortment.
In 2010-2012 Safari almost dessappeared from our market because the retailers thought there wasn't enough money in it. CollectA new McDermott horses (as well as other figures) also weren't available that time.
Anyway, now we have a variety of Schleich-like brands (even Mojo Fun!), though have to wait some time for some new things (and that's why prefer to get them from TGF or MPV

)
Breyer came to Russia in 2011. Even though the first Breyer horse appeared in Russia in 2000 (it was our collector registered as Reimolino here who got it

), this brand seemed to be completely unknown for the mass audience till late 2000's. However, it's said that some Breyer horses used to be sold through some retailer in late 90s-early 2000s, but I guess that might have been Hartland. Here's one figure (1:32 scale) that was bought in Russia that time.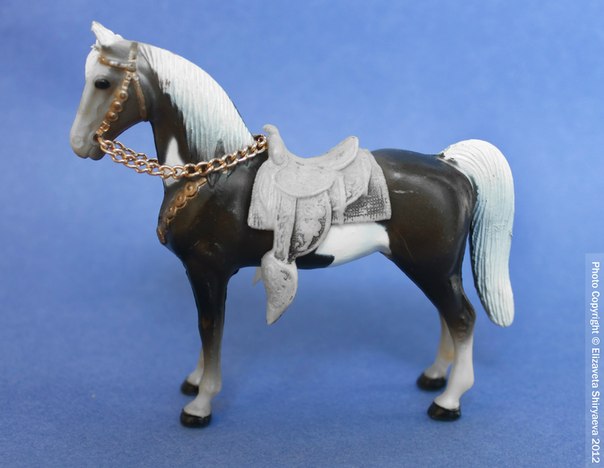 The first Russian model horse collectors community was registered in social web on the 8th of January in 2008.
It focused mainly on Schleich-like brands, but than Breyer and Peter Stone appeared) At first these horses seemed to be really rare and were sold by several people in that group (really expensive), and many young collectors believed that you've a king if you have a Breyer in your collection.

If you had a Stone horse, it was a miracle. And those few who had a resin or two considired to be legendary heroes)
By that time the members mostly chated online, seing each other only if they used to be friends in real life. Very few people knew what was model horse collecting in other countries like (its history, activities, artists, etc).
In 2011 S&B Toys became a Breyer distributor in Russia.
The assortment wasn't great, but almost everyone could handle and buy Breyer horse now. Model Horse Collecting became really popular in my country :) To tell the truth we had a dream that S&B Toys would support the hobby, but it didn't happen. Or at least not in the way we expected. So in 2012 I decided to try myself and started working for this company. I hope to do my best to make the company support the hobby, develop the 'official Breyer lovers club" (orginized by S&B Toys) and our own Russian collectors community. We pick up info about the artists, model horse hobby , etc and share it with the others from our community.
In summer 2011 we had our first community meeting, and now it became a tradition (as well as Secret Santa). We orginize online photo shows inside the community, and I hope that we'll be able to have some live show too in Russia one day:)
Customizing's also popular here, and our artist's work's been NAN'ed already (Daria Mayorova, who lives in Canada now).