Wow Paige, so many beautiful figures in 2022! There are so many great ones, but the oarfish has to be my favorite
I am so thankful this year with my collection. I received many models I absolutely loved, it was very hard not to pick everything.
But I do have so highlights that I am so grateful to have, here they are
1.) Starting off with Safari's beautiful Virginia opossum! I wanted this figure for a long time, and I was so happy to finally find one. I just love the babies clinging on to the mother's back. Safari has so many gems making them my favorite brand easily.
2.) A repaint my friend did for me of Southlands Replicas brumby stallion. He is painted to look like Spirit from one of my favorite childhood movies. I just love the paintwork on him, she did an excellent job  
3.) I just adore Anna's figures... But I wasn't on STS when she was making her wild life figures, so I wasn't able to get any. I was so happy to get the beautiful bongo from a forum member. I got her takin too and gifted it to my friend. I love this figure so much I feel honored to own it!
4.) The poor lesser kudu I wanted for a few years but he was always out of stock on Safari's website when I was making an order. I didn't realize when he retired and I couldn't find him anywhere.. AnimalKingdoms in New Zealand was so kind to ship me one that they still had in stock! A beautiful antelope, one of Safari's best in my opinion.
5.) I love Signatus Studios models, this vulture was a new species for me and I just love the details on it!
6.) The waterbuck was another beautiful model by Signatus Studios.. I love how she was made to go with CollectA's male. I might have to get the baby now  
7.) Thanks to Paige I was able to find the last Southlands Replicas figure I needed! The beautiful Thylacine is probably my favorite of the series, I love it so much  
8.) Thanks to one of Loon's sales I was able to get another Nature Technicolor figure. I only have a few figures from this brand, but I am so impressed by it. I believe it is one of the most realistic/detailed figures I own. Such a beautiful cephalopod!
9.) From Whitelightningwolf, a gorgeous leafy seadragon!! Seadragons are some of my absolute favorite fish, I have such fond memories of seeing them at the Monterey Bay Aquarium. Another fantastic nature technicolor figure that just nails the detail of the real thing.
10.) Probably tied as my favorite addition in my collection this year, Safari's gorgeous and tiny queen triggerfish. This was a very sentimental model that I had lost when I was little, and I've been looking for another for years. Finding the whole set was a dream come true and I was so happy to have the triggerfish back in my collection along with the other figures in new condition.  
11.) Marine iguanas are one of my favorite reptiles, they have always fascinated me. I loved the Play Visions model, but I wasn't satisfied with the paintwork. My friend recently repainted one for me and I just love it!! She did an amazing job and I think the paintwork really shows off the sculpt.
12-14.) 3 salamanders from Safari's amazing Tennessee Aquarium set.. I just adore these figures and I was so happy to find 3 more. I just need to find the elusive common mudpuppy to complete the set.
15.) I'm a huge fan of Safari's Incredible Creatures line, their reptiles especially. I was so happy to find the Parson's chameleon! This model is just so unique and I love it so much. Its large size and beautiful colors make it a joy to look at.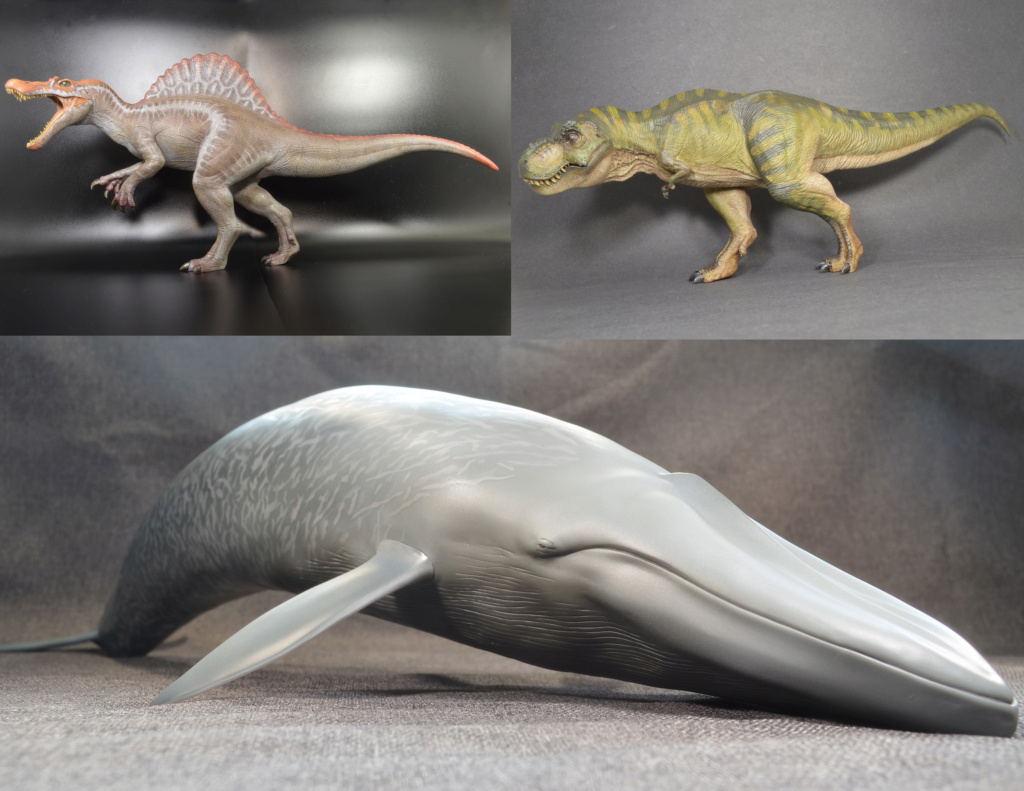 16.) I'm really into dinosaurs, especially those from Jurassic Park. The 3rd movie was always my favorite when I was little and spinosaurus is my favorite dinosaur. I was so happy when Nanmu Studios announced they were making a 2.0 version. Its so stunningly realistic and a great representation of the movie version!
17.) Another figure from Nanmu, the buck from the Lost World. The detail on this guy is incredible and he was probably the most fun to photograph this year in the woods.
18.) And wrapping it up with my
#1
figure of the year (tied with the triggerfish) the Kaiyodo blue whale!  
I wanted this figure for years and years. But I never had the money for it when I was younger and I couldn't justify the price when I was older. I finally decided I would get it this Spring, thanks to help from Brett. My grandparents made it a graduation gift from college and I was so grateful and excited to have this huge whale in my collection. Its only right that the biggest figure I own is the blue whale  
It was an amazing year and I am ever so grateful and appreciative of the dedicated members on this forum that are always eager to help out. I have found many figures I was searching for and I have discovered numerous new brands. I can't wait to see what this year brings!!